Recently I read that Facebook CEO, Mark Zuckerberg, is taking 2 months paternity leave and my reaction was, "WOW"! The profile of fathers is indeed changing and corporates are recognizing this. Many companies in India now have a paternity leave policy, with leave ranging from 1 to 2 weeks. 2 months paternity leave is a luxury that not many people can indulge in.

A year back one of our clients called us to conduct a session exclusively for fathers on "Spending Quality Time with Children". The company is headquartered in the US and the employees based in India had to work India as well as some bit of US work hours, leaving them with very little personal time. Employees consisted of many young fathers who felt that they were missing out on time with their families especially children. Therefore, they had approached the Employee Relations team for some guidance.

We, at in.harmony, were elated with the opportunity to support this organization. In my 11 years of work experience in employee wellness, this was the first requirement for a session on parenting exclusively for fathers.

Our secondary research revealed that there wasn't any India specific information on the challenges fathers working in corporates and based in India faced. So, we decided to conduct our own survey.

We interviewed over 100 fathers in the age group of 30 – 50 years across Mumbai, Chennai and Bengaluru working in sectors like banking, engineering, FMCG, construction, textiles and others. The findings were an eye opener. Some of our findings were:


1. Top emotions experienced by working fathers towards time spent with their children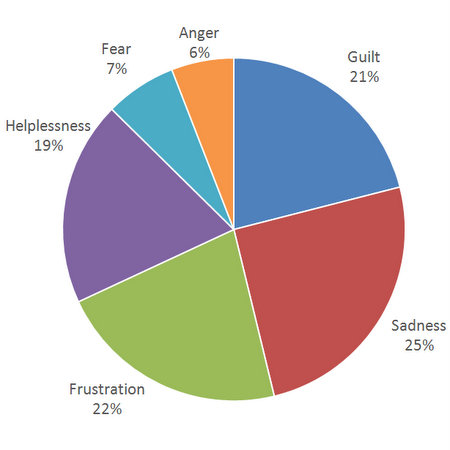 Often it is easily assumed that men are too focused on their jobs and because they don't look into the everyday management of their homes and children, they aren't so bothered. Our research showed that fathers are as ridden with sadness, frustration and guilt as working mothers. In fact, the sadness is felt far more because most men don't even have the option to quit a job and stay home to look after their children. Their roles in society are very strongly defined and changing that is another challenge altogether. This also led them to feeling helpless about their situation.

The fathers also mentioned that they trusted the parenting decisions made by their spouses and so, didn't interfere with them. But that doesn't mean that they don't care or don't want to increase the time they want to spend with their children.

Many fathers also expressed that they felt insecure about their relationship with children. Children were more familiar with their mothers and therefore, more comfortable with them. Fathers felt left out and feared that they wouldn't be able to connect with their children.

2. Compensation for lack of time:
On asking what they did to make up for the lost time, their response was: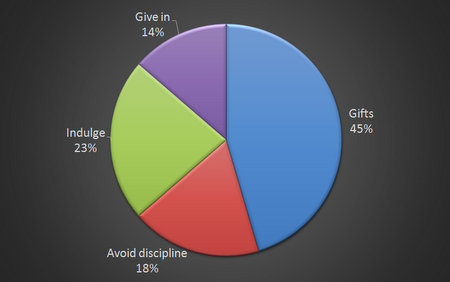 Most fathers used gifts as compensation. Now, that is a dangerous trap. As a father, you are neither helping yourself nor your child. While, as a father, your intention is good, the child may learn to equate love with materialistic things.

Fathers indulged their children's demands, as they wanted the limited time to be happy and avoided disciplining during this time.

3. Time spent with children:
Almost all the fathers interviewed had stressful corporate jobs involving long hours at work, tendency to bring work home, and frequent travel within India and abroad. In response to a question on time spent with their child on a daily basis, their response ranged from 20 minutes to one hour. All fathers unanimously felt that it was just not enough. They all clearly desired to increase the amount of time they spent with their children. Most wanted to spend at least one hour per day. Those who were already spending an hour per day, wanted to extend it to 2 hours. Clearly, fathers felt that the more time they spent with their child, the better their bonding with them.


4. Fear due to less time with children
Almost all fathers felt that their relationship with their children will be adversely impacted due to their inability to spend adequate time with them. Some of their specific fears were:
- Fear of emotional disconnect with the child
- They feared that as their child/ children grow up, they will share lesser and lesser with them. Fathers will not be the "go-to" person.
- Fear of missing opportunities to instill values important to them.
- They feared that they would be valued more as a provider. While the interviewed fathers took pride in their ability to provide for their families, they clearly wanted to be valued for their emotional support as well.

Conclusion
From our research, it is evident that fathers are keen to be more involved in parenting duties. They want to spend more time with their children and build stronger emotional bonds with them.

It is also a reality that their jobs and role as a provider are demanding. The role of men as the main breadwinner of the family is firmly etched in the Indian society. The good news is that we are now seeing some shift in the roles. The shift is slow, steady and very hopeful. Our research findings and subsequently the learnings from our sessions on parenting that we conducted for fathers, corroborate this.

If you are a father, do share your thoughts on spending time with your child/ children. Would love to hear from you.
Anupama Easwaran is the co founder at in.harmony and a trained counselor with 19 years of work experience in employee wellness, business development, client servicing, marketing, brand & event management. She is a fitness enthusiast, has diverse interests like reading, acting, painting and firmly believes in living life to the fullest.